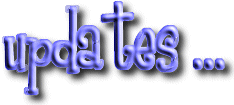 ---
1/4/2000: Many new Maureen sounds have been added to the sounds section, as well as more pictures in the pictures section. There is also a new counter since the other one stopped working and Maggie's Broadway bio is now up in the bio's section. If you have any sounds/pictures/reviews/links or anything else that you would like to see on the site feel free to e-mail us here.


---
12/13/99: Pictures are always being added as we get them to the pictures page so check there to see some new ones every once in a while. As well, Maggie's last show in the Benny Tour of RENT was Dec. 12th, 1999. She will now be moving to New York to continue her role in RENT on Broadway.


---
8/14/99: More pictures added in the pictures section from the Benny Tour. Also, a new review from Amber is up in the reviews section. Coming soon are some Benny Tour sounds, and more Benny Tour pictures.


---
After so many months of working on this site, we've finally finished. Look here for updates in the future, when we get more stuff to add.
---